---
Dennis Weaver's Biography (from Dennis Weaver's Home Page)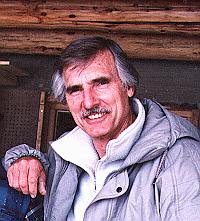 Throughout an acting career spanning four decades, Dennis Weaver has brought to television and motion pictures the distinctive qualities that have always made a star appealing to all generations....strength, power, sincerity, truthfulness, humor, vulnerability, generosity, sensitivity and integrity. You do not simply believe a Dennis Weaver performance.....you trust it. And that trust means staying power.
There was "Chester" in TV's longest running series, GUNSMOKE. Here, Dennis created one of the most endearing sidekicks in the history of Westerns and won an Emmy in 1959 in the process.
After nine years on that mega hit show, Dennis traded in his patented and now world famous "limp" for stardom in such series as GENTLE BEN, KENTUCKY JONES, EMERALD POINT N.A.S., STONE, BUCK JAMES and of course, MC CLOUD, the role that brought him three Emmy nominations.
Along the way, Dennis saw the television movie evolve into real maturity and went on to star in such films as AMBER WAVES, ISHI: THE LAST OF HIS TRIBE and the unforgettable DUEL, directed by Steven Spielberg. These three films have been cited by critic Tom Shales of the Washington Post as being among the "ten best TV movies ever made."
A prolific and versatile actor, Dennis adds to his enviable list of credits such TV movies as COCAINE: ONE MAN'S SEDUCTION, THE ORDEAL OF DR. MUDD, INTIMATE STRANGERS, THE ORDEAL OF PATTY HEARST, A WINNER NEVER QUITS, THE DAY THE LOVING STOPPED, THE FORGOTTEN MAN, ROLLING MAN, FEMALE ARTILLERY and the powerful BLUFFING IT in which he flawlessly portrayed an adult illiterate, bringing much attention to the serious issue of illiteracy in this country. No stranger to any television format, he was seen in leading roles in many miniseries, including PEARL and CENTENNIAL (The Longhorns). Dennis has also appeared as "Buffalo Bill" in the television series of LONESOME DOVE.
On the silver screen, Dennis appeared in Orson Welles' 1957 classic, TOUCH OF EVIL in addition to TEN WANTED MEN, SEVEN ANGRY MEN, DRAGNET, WAY...WAY OUT, THE BRIDGES AT TOKO-RI and A MAN CALLED SLEDGE.
On the comedic side, Dennis has demonstrated his talents on "The Sonny and Cher Comedy Hour," "The Flip Wilson Show," and "Hee-Haw." His singing and song writing abilities have been shown on several television music specials and he also was the host for a syndicated series of "Country Top 20" specials. His love for country music is ever present....his newest release, "Make Love To Life," features many of his own environmental compositions...and some good ole down home humor. More recently, in MASTERGATE, a satirical play on words about the Iran-Contra Hearings, written by Larry Gelbart of "Mash" fame, Dennis portrayed the Vice President. "Mastergate" aired on Showtime.
Born and raised in Joplin, Missouri, Dennis married his childhood sweetheart, Gerry Stowell, in 1945. They have three grown sons, Rick, Robby and Rusty.....and are the proud grandparents of Jennifer, Brandon,Travis and Jess.
Dennis was one of the Midwest's top collegiate track and field athletes and in 1948 placed sixth in the decathlon at the national tryouts for the Olympic Games. But acting was his chosen career and Dennis went to New York in search of opportunities. He was accepted into New York's famed Actors Studio and made his Broadway debut in OUT WEST OF 8TH, directed by Burgess Meredith. He went on to tour nationally with Shirley Booth and Sidney Blackmer in William Inge's prizewinning play, COME BACK, LITTLE SHEBA. After several other appearances on the stage, including Tennessee Williams' THE GLASS MENAGERIE and A STREETCAR NAMED DESIRE, Dennis was signed by Universal in 1952 and brought to Hollywood to pursue his career. Under contract to them, he was in most of the Westerns the studio was producing. Soon he was to go on to make his indelible mark as "Chester" in GUNSMOKE. The rest, as they say, is history.
From 1973 to 1975, Dennis served as President of the Screen Actors Guild and received "The Ralph Morgan Award" for outstanding service to his fellow members. In 1986, he received his Star on the Hollywood Walk of Fame; and in 1988 received an honorary Doctor of Humanities degree from Ryokan College. He was inducted into the Cowboy Hall of Fame in 1981, as well as winning two "best acting" awards from the group for ISHI and CENTENNIAL. Dennis also received the Yugoslavian equivalent of an Academy Award in 1972. He has also been honored by Haven Hills, a home for battered women and the Pacific Lodge Boys' Home. In 1990, Dennis received two additional humanitarian awards....one from The Inside Edge and the other, "The Louella Parsons Award" from the Hollywood Women's Press Association.
Another facet of Dennis's career began in 1982 when he became the spokesperson for Great Western Bank. The integrity of this institution and of Dennis Weaver has made this one of America's most successful advertising campaigns.
In 1983, Dennis, Valerie Harper and several concerned community leaders founded Love Is Feeding Everyone (L.I.F.E.). Once providing supplemental food to 400 people each week, through Dennis's leadership, as President and Chairman of the Board of Directors, L.I.F.E. now supports 108 agencies who collectively are feeding 115,000 hungry people a week in Los Angeles County. L.I.F.E. now serves as a role model for groups throughout the U.S. who wish to launch a program like L.I.F.E. His work with L.I.F.E. earned Dennis the 1986 Presidential End Hunger Award.
A man of action, Dennis is living in a home he built.....an environmentally friendly solar-powered mass house made from recycled automobile tires and cans. It is called an "Earthship" - an independent sustainable living space......a living space that is not dependent on archaic centralized energy systems that are greatly damaging the planet. The "Earthship" is the brainchild of Taos, New Mexico architect, Michael Reynolds. An environmental film describing the building of Dennis' beautiful Southwestern style EARTHSHIP is available for purchase. In fact, the film is now being shown on PBS stations across the country.
A much sought-after speaker, Dennis is continually being invited to share his views on the environment...be it at the United Nations, on college campuses across the country, or Windstar's "Choices For The Future" Symposium in Aspen. His speaking engagements are numerous. In 1990, he narrated an EARTH DAY special for NBC. His environmental film, EARTHSHIP was shown at the 1991 International Environmental Film Festival in Boulder and was shown again this year at the US Environmental Film Festival in Colorado Springs. Dennis actively supported the United States' participation in the United Nations Conference on Environment and Development (UNCED) in Rio (the Earth Summit) in June of '92. In May of '92, he delivered his now famous "Mc Cloud" Senate speech as part of the preparatory conference for UNCED, which was held in the UN's General Assembly. Dennis serves on the Board of Directors of ECO (Earth Communications Office)... a group of creative people from the entertainment industry who are dedicated to using their power of communication to inform and influence people to take action to save the home we all share...our wondrous Mother Earth. He is also on the Advisory Board of the "Center For Environmental Solutions' " based in Denver, Colorado.
Most recently, Dennis has founded the INSTITUTE OF ECOLONOMICS. The Institute is a 501 (c) (3) based on the realization that our ecology and economy must be sustainable. For every environmental or economic problem, the solution already exists in the mind of an inventor, innovator or entrepreneur. The goal of The Institute is to find them, support them and connect them to those with the expertise to bring those solutions to the marketplace. In other words, to create an environmental industry....jobs that do not destroy the place we live.
(November, 1996)
For additional information, please contact Alice Billings at 970-626-3861.
For EARTHSHIP information, please call Alice at the number listed above
or write to us at PO Box 257, Ridgway, CO 81432.
Available in VHS and PAL formats.... Dennis Weaver's EARTHSHIP....environmental film on the building of his home....Currently this film is being shown on PBS stations across the country. We also have the 3 volumes of EARTHSHIP....."How-To" books by architect, Michael Reynolds....and a "How-To" film by Michael Reynolds.
Addendum: April 10th, Dennis began principal photography on a pilot for CBS called The Wolfe Pack - He played Ben Wolfe, the head of a family of private investigators.
In June, Dennis was in Kansas shooting a movie of the week called Stolen Women. And In July was in Calgary shooting a Movie of the Week called Harvest of Lies. While in Canada, he was the Grand Marshal of the Calgary Stampede.