Gunsmoke: Awards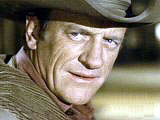 ---
(T/F) In TV Guide's April 17, 1993 celebrating 40 years of televion, the all-time-best-TV programs were chosen. Gunsmoke was named the all-time-best-western.

True. `No contest, this was the TV Western.'

(T/F) Gunsmoke won an Emmy its first year of television broadcast.


False


(T/F) James Arness won two Emmies for ``Best continuing performance by an actor in a leading role in a dramatic or comedy series".


False ... Arness has never won an Emmy.
---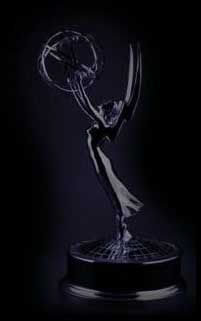 Click on statue for information about Gunsmoke Emmy nominations and awards.
---
How many times did Gunsmoke win an Emmy for ``Best dramatic series with continuing characters"?


Once in 1958 for 1957 at the 10th Annual Awards.

Did Dennis Weaver ever win an Emmy for his portrayal of Chester on Gunsmoke?

Dennis Weaver as Chester.

Yes ... for ``Best supporting actor in a dramatic series" at the 1958-59 awards. Click HERE for a picture.

Did Ken Curtis ever win an Emmy for his portrayal of Festus on Gunsmoke?


No

Did Milburn Stone ever win an Emmy for his portrayal of Doc on Gunsmoke?


Yes ... for ``Best supporting actor in a dramatic series" at the 1967-68 awards.

Did Amanda Blake ever win an Emmy for her portrayal of Kitty on Gunsmoke?


No

Mike Pozen was awarded an Emmy for ``Best editing of a film for television" for work he did on a 1957 Gunsmoke. The name of the award winning episode was ``How to Kill ...

Time".
Your Best Friend".
a Woman".
a Killer".
Matt Dillon".
a Prairie Chicken".



Answer: ... a woman

(T/F) Gunsmoke won two Emmies in the category of ``Best Western".


False... this was an Emmy category at one time, but was never won by Gunsmoke.


(T/F) Gunsmoke has won more Emmies than any other weekly television series.


False




In 1983, the 54,107 members of the Screen Actor's Guild were asked to name their favorite television shows of all time. Did Gunsmoke make the top ten?


Yes ... it was number ten.



In its special issue celebrating 50 years of television, TV Guide (May 6, 1989) placed both James Arness and Amada Blake into its Hall of Fame.


False. No Gunsmoke character made the list nor was a runner up. In the same issue, though, there is an article entitled `What Would Matt Dillon Have Thought of Sonny Crockett?'.


The producer of Gunsmoke's earliest episodes, Charles Marquis Warren, also produced some of the episodes of Rawhide.


True




(T/F) The author who penned the largest number of Gunsmoke scripts for both radio and television, John Meston, never wrote an hour long Gunsmoke script.


False... he didn't, however, write the scripts to any of the color episodes. Meston wrote the script of the first television episode.




(T/F) Considering the violent reputaion of early Gunsmoke episodes, John Meston thought television was too violent.


True




John Meston abhored the fictional goody-goody cowboys of kiddy westerns. In regard to them, he said ``I spit in their

watered down whiskey".
eye".
milk".
ear".
sarsaparilla".


Answer: ... milk

(T/F) Les Crutchfield, who penned a number of early Gunsmoke scripts, went to Cal Tech.


True

M ore Gunsmoke Awards are given in Gunsmoke Lists. Click on the picture below to connect.

---

Return to Gunsmoke Front Page