9. Captain Sligo

January 4, 1971 Written by William Kelley, Directed by William Conrad, Guest Cast: Richard Basehart, Salome Jens, Royal Dano, Stacy Harris, Bobby Eilbacher, Geri Reischi, Royce Donnet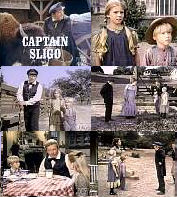 An old sea captain and his mate living like they did on the open seas - except just outside of Dodge City. Supposedly a comedy, the premise and plot are so bad they hurt your feelings.
On television, Richard Basehart (Captain Sligo) starred in the Voyage to the Bottom of the Sea. He won an Emmy in 1965. This episode of Gunsmoke wins him a golden turkey.
The show was directed by William Conrad who played Marshal Dillon on radio's Gunsmoke.