6. Hostage!
December 11, 1972 Written by Paul Edwards, Directed by Gunnar Hellstrom, Guest Cast: William Smith, Geoffrey Lewis, Marco St. John, James Chandler, Nina Roman, Hal Baylor, Sandra Kent, Stafford Repp, W. Chambliss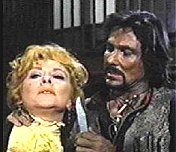 Click HERE for more info.
Jude Bonner, played by William Smith, is a crazy eyed sociopathic killer. He's as big as Dillon and ten times as mean. He and his dog soldiers hurt for the fun of it. Kitty's rape drives Dillon into a quiet purposeful rage. Unbridled immovable evil clashes with the irresistible good force of Dillon who, in a confrontation scene reminiscent of The Exorcist, nearly becomes possessed by Bonner's hate demons.

Bonner ranks as the most memorable of Gunsmoke's bad men.